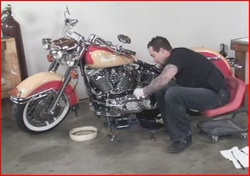 Softail® and Dyna Glide® models. Complete step-by-step Maintenance guide from 1986 to present.Using all hand tools, as Michael tells you the size of the tool he is using.Also receive with your DVD a list of ever service needed at what mileage interval from 1,000 miles to 50,000 miles. Video shot on a garage floor not a bike lift.
---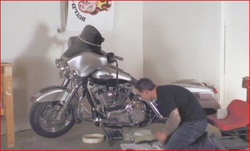 Electra Glide® and Road King® models complete step-by-step Maintenance guide
for big Baggers from 2000 on. Be sure to use your mileage check-off sheet (shipped with the DVD) to make sure you have performed everything that was needed at the mileage.Performed on the ground only using a scissor jack as needed to stand the bike upright.
---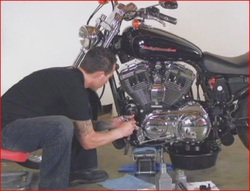 Sportster® Your complete guide to saving $100's dollars on servicing your own bike.
Step by step follow along as Master Rated Mechanic Michael Durham takes you through every service that can be done on a Sportster® from 2004-on. Using only hand tools that Michael will call-out the size as he uses them.
---