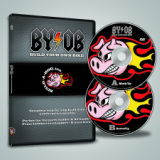 BYOB Build Your Own Bike this two DVD set takes you through the build process with disc A for the Mock-Up before paint. Here is where you find out some things just don't fit well together as we found out. Disc B is the final assembly. Our host Michael does a great job of showing you how to wire your bike. A very misunderstood step.
Disc A runtime 40 minutes
Disc B runtime 50 minutes


---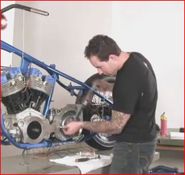 BYOB (Build Your Own Bike)
Two DVD set covering building a bobber style bike. Disc A is mock-up meaning building the bike to make sure everything fits (which it didn't) before sending out the frame and everything for painting and chrome. Disc B is assembly and wiring. Michael does a very good job of explaining wiring and reading schematics Then test riding out of the garage using the Shovelhead style engine that was built for this bike build. See Shovelhead below and buy them both for $37.95. .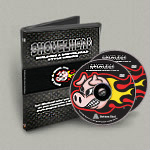 Shovelhead style engine build. The old style Shovelheads did not have a decent oiling
system. Other than that this is a Shovelhead. Some specialty tools are needed and just because the flywheel is new it needs to be balanced (any machine shop). This is the engine that went into the BYOB bike build.
Disc A (bottom end) runtime 48 minutes
Disc B (top end) runtime 49 minutes
---
SHOVELHEAD ENGINE BUILD
Michael builds a Shovelhead style engine. Using ONLY NEW PARTS this is NOT a rebuild but a build. Requires some special tools. somethings you may not be able to do at home (balancing your crank and flywheels) but most machine shops or car dealership can do it. You must make sure your flywheel and two piston rods are balanced. Just because the part is new (use only new part) does not mean it is trued!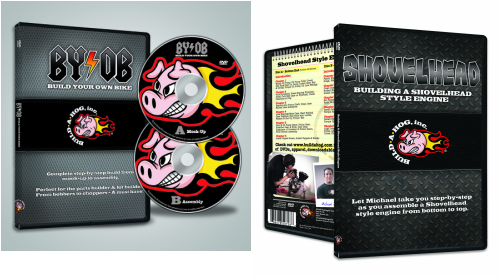 GET THEM BOTH
For only $37.95 PLUS shipping
---